Offering Solar Electric to Our Wisconsin Customers
Do you want a more sustainable way to power your Wisconsin property? Look no further than solar electric from Strawbale Farms. Cut down on your energy costs while saving the environment with a solar electricity system you can depend on! We offer solar electric for Wisconsin residential, commercial, and agricultural customers at amazing prices.
Strawbale Farms has partnered with the largest solar electric company in the Midwest, Next Energy Solution. Next Energy Solution offers more options to fit our customers' needs. The most popular system we offer is the Ready to Install (RTI) system were we supply the solar panels, rails, mounting hardware, disconnects, inverter, detailed installation instructions, wiring diagrams and tech support. And, on top of all that, we also help with the paperwork needed for the interconnection agreement with your electric provider.
Strawbale Farms has been dedicated to bringing alternative energy to Wisconsin, Minnesota and Michigan's upper peninsula since 2002. And providing excellent customer service for all of our customers is our top priority. We provide a variety of solar electric products and services to meet your specific energy needs.
Are you ready to learn more about solar electric for your home or business? Contact the experts at Strawbale Farms for more information today!
Benefits of Solar Electric
You have no doubt already heard about solar electricity but are you aware of its many great benefits? Simple, affordable solar electric systems from Next Energy Solution offers a variety of benefits including: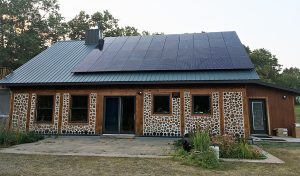 May qualify for other cash rebates
Maintenance-free operation
Patented ready to install systems
Energy independence for life
Systems for Farms, home, business
Roof, ground & awning mounting
High 98.5% efficiency systems
Thirty-year performance warranty
Qualifies for 30% federal tax credit
Faster paybacks 2-4 years
5K W systems and stall and only 3-5 hours
And more
And these are just some of the great benefits you can enjoy with solar electric! Why pay the utility every month when you can generate your own free electricity? A solar electric system will reliably generate free electricity for decades.
And, whatever your electrical needs, there is a solar electricity solution for you. So contact the experts at Strawbale Farms today to learn more about solar electric and the many options and benefits it can provide for you!
Start Saving Today with Solar Electric
To get some more information or for a free estimate on solar electric at your Wisconsin home, call Dave Jacoby at Strawbale Farms at 715- 214- 6683 or email heatsmart@ymail.com.