Outdoor Wood Furnace Minneapolis
Looking for an alternative heat source that can offer both dependability and efficiency? Look no further than an outdoor wood furnace for your Minneapolis home or business. Outdoor wood furnaces and boilers are growing increasingly popular in the area due to their ability to offer energy efficient heating while remaining "off the grid." Our customers love their Portage & Main furnaces and boilers. They provide independence and money savings that cannot be beat.
We offer the most innovative line of wood furnaces and boilers on the market today. They have come a long way from the furnaces of the past and we offer the most dependable models available, including the following and more:
Envirochip
Utilizer Wood Series
Stoke Series
EGR Gasification Series
Not sure which to go with? The experts at Strawbale Farms will listen to your personal wants and the needs of your property to help you choose the right one for you. Give us a call today and we can tell you more about the Portage & Main Boilers we carry and all of the services we provide.
An Outdoor Wood Furnace from Strawbale Farms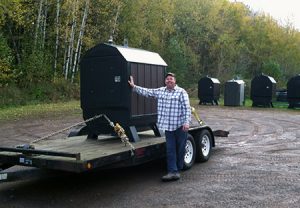 Since 2002, our main goal at Strawbale Farms has always been to provide local Minnesota and Wisconsin residents with the alternative, renewable energy products they want and need. We focus on biomass heating and energy efficiency and our many years of experience in the industry means we know results when we see them. We only offer products we know will truly work. It is our pleasure to offer our customers the most efficient and innovative line of Conventional Outdoor Boilers, Wood Gasification Boilers and Automated Woodchip Boilers made today.
Known as the "Original Efficient One" since 1973, Portage & Main are the best built, longest lasting and most efficient outdoor wood furnaces on the market. For virtually anyone looking for straightforward, affordable heat; choosing an outdoor wood furnace as a heating source is a no-brainer. Outdoor wood furnaces and boilers take up zero living space and are extremely cost-effective.
Dave and Shari Jacoby established Strawbale Farms in 2002 with the goal of helping our customers achieve energy independence in an age of volatile fossil fuel prices and we intend to continue doing just that.
Contact us about an Outdoor Wood Furnace
Are you interested in learning more about an outdoor wood furnace for your Minneapolis home or business? Call Strawbale Farms at (715) 214-6683 or Contact Us to learn more.