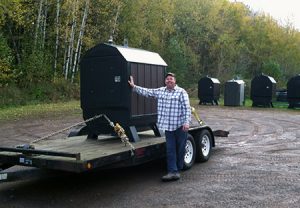 Outdoor Wood Boiler Ashland WI
Looking for a better way to heat your home or business? Strawbale Farms has the solution for you! An outdoor wood boiler for your Ashland WI property can offer efficient heating and off-the-grid enjoyment. Even save money and save time on cutting wood with these highly efficient boilers from Portage & Main! Our customers love their boilers from Strawbale Farms because they know they are getting a great return on their investment as well as a great way to heat their home.
Not sure if an outdoor wood boiler will work for you? At Strawbale Farms, we have helped a wide variety of customers from home owners to farmers, commercial and industrial businesses and more find the right outdoor wood boiler for them. An outdoor wood boiler can actually heat several buildings at once – house, barn, stand-alone garage, etc. and costs less to do so!
Whatever you are looking for in an outdoor wood boiler, the experts at Strawbale Farms can help you find the right one to fit your specific needs. As long as you are looking for straightforward, affordable heat; choosing this wonderful heating source is a no-brainer. Outdoor wood boilers take up zero living space and are extremely cost-effective.
So give us a call today and we can tell you more about the Portage & Main Boilers we carry and all of the services we provide.
An Outdoor Wood Boiler from Strawbale Farms
If you are interested in a homestead approach to living, then the outside wood boiler is a prime way to stay off the grid and control your home's energy consumption. They provide more living space inside your home. Rather than needing a closet or space in your home for a heating unit, the outside wood boiler is located outside your house. The outside wood boiler is eco-friendly because it uses natural, renewable fuels.
And at Strawbale Farms, we only offer the very best in outdoor boilers. Known as the "Original Efficient One" since 1973, Portage & Main Boilers are the best built, longest lasting and most efficient boilers in the industry. So, you can rest easy knowing your home or business will be warm whenever you need it.
And, our Polar furnace is all about making wood burning as clean, simple and easy as possible while eliminating your high heating bills. To accomplish this, the Polar G-Class is packed with an impressive array of features which together deliver unmatched product value.
Do any of these sound a like a great solution for you? Contact the experts at Strawbale Farms today!
Contact Us about an Outdoor Wood Boiler
Are you interested in learning more about an outdoor wood boiler for your Ashland WI home or business? Call Strawbale Farms at (715) 214-6683 or Contact Us to learn more.