What Kind of People Choose Portage & Main Outdoor Wood Boilers?
---
Eric & Michelle Heins; Plainview, MN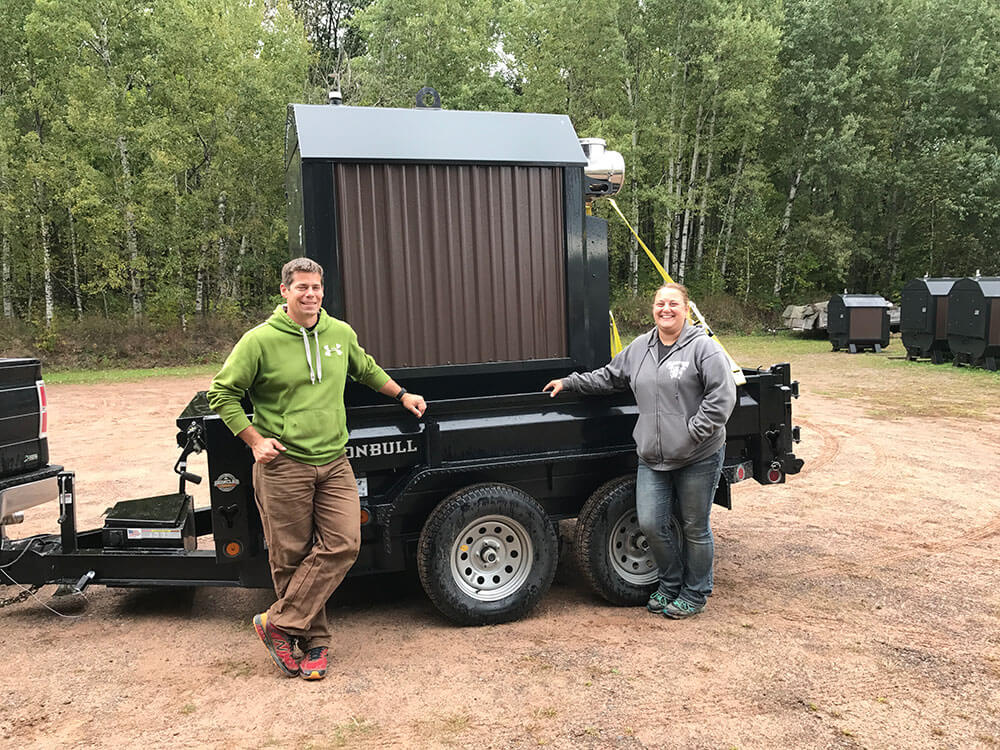 Eric and Michelle Heins of Plainview, MN, with their new BL 3444. Eric works in IT for the Mayo Clinic in Rochester, MN.
---
Tony Charles; Isanti, MN
Tony Charles owns a tree service business in Isanti, MN. Tony is looking forward to plenty of heat and hot water for his home and large shop supplied by his BL 4044.
---
Bill Manning; Boyceville, WI
Bill Manning, a retired logger from Boyceville, WI, is next to his new BL 2840.
---
Steve Shirkey; Sagola, MI
Steve Shirkey, owner of Sagola Hardwoods, and his grandson pose with their new BL 4044. The boiler will be providing the heat for drying lumber in a 50,000 board foot dry kiln.
---
Andrew Moritz; Sauk Centre, MN
Tradesmen know quality when they see it. Andrew Moritz, contractor from Sauk Centre, MN, is with his new BL 3444.
---
Brian Loof; Duluth, MN
Loggers know that equipment downtime costs money, so investing in the best equipment is important to the bottom line. That is why Brian Loof from Duluth, MN, chose a Portage & Main!
---
Joe Zebro; Angora, MN
Trucker Joe Zebro from Angora, MN, picking up his new BL 2840 at Strawbale Farms in Trego, WI.
---
Tom Bitney; Chippewa Falls, WI
Tom Bitney, owner of Stone Services Monument Company in Chippewa Falls, knows quality when he sees it. That is why after much research he chose a Portage & Main BL 3444 for his heating needs.
---
Jim White; South Range, WI
Jim White, a retired tool and die maker, has a great set up for his EGR 250 Wood Gasification boiler. The boiler is only 10 feet from the front door of Jim's house/shop so no smoke and high efficiency were important factors for him.
---
Chuck Wood; Eau Claire, WI
Chuck Wood, left, heats his large shop and a 1,000 gallon water tank for his pool and spa repair business in Eau Claire with a highly efficient clean burning Portage & Main EGR 250 Wood Gasification Boiler.
---
Mert Jensen and his wife; North Branch, MN
Mert Jensen is a botanist and works part-time for a large nursery. At 89 years young, Mert is still going strong. On top of his part-time work, Mert is still farming his own land growing mostly vegetables. Mert heats the farmhouse, shop and large greenhouse with his Portage & Main BL 4044. Mert has been heating with wood his whole life, and when it came time to purchase an outdoor wood boiler, quality and efficiency were his top priorities. Mert still makes his own wood, but with his big loads he wanted to be as efficient as possible. That is why Mert chose Strawbale Farms/Portage & Main Boilers!
---
Nate Donaldson and Tonya Schutt; New Auburn, WI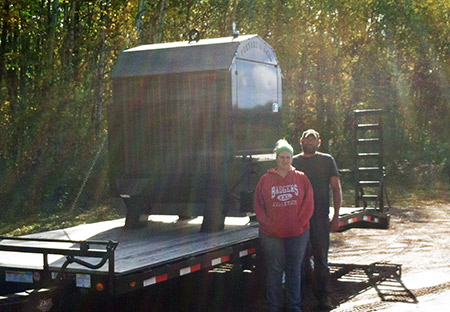 Nate is an excavator and knows how much equipment downtime can affect the bottom line. So when he makes a purchase, he wants the best because in the end Nate knows quality and durability pay off. Nate needed a boiler that would give him years of trouble-free, efficient and dependable service. That's why he chose Strawbale Farms/Portage & Main Boilers.
---
John Harding; Owen, WI
John is a lineman for Excel Energy. He had been tossing around the idea of an outdoor wood boiler for years but just could not find a boiler that suited him. The boilers he had looked at seemed inefficient and of average quality, that is until he found Strawbale Farms/Portage & Main Boilers! John and I talked several times over the course of a year, when he came for a visit we went over a Portage & Main Boiler point by point. After comparing it to other boilers he had looked at, John was sold. Even the fossil fuel guys can't resist Strawbale Farms/Portage & Main Boilers!
---
John South
John and his son from northern Minnesota, are real do-it-yourselfers. They built a homemade boiler from scrap metal and old snowmobile parts. John was not satisfied with any of the conventional wet bottom boiler designs on the market so he built his own modeled after a steam boiler. John built a dry, fire brick lined base with water jacketed vertical flues above the fire. John's neighbors didn't think the boiler would work, but it worked great for seven heating seasons!
John knew the value of having a dry base for a hotter fire in combination with enough heat exchange area to get the highest possible efficiency, so he was very excited to come across our Strawbale Farms/Portage & Main display boiler at a local hardware store. He called me immediately and said, "Where the heck have you been? I've been looking for a refractory lined dry bottom boiler for years, I couldn't find one so I built my own."
John was so impressed with our design and quality that he bought a BL 2840 immediately. John and his family have also been very impressed with the efficiency of the BL 2840 and the ease of operation. John said buying a Portage & Main was one of the easiest and best decisions he has ever made. Handy people who can build something out of nothing choose Strawbale Farms/Portage and Main Boilers!
---
Dave Hintz, Gleason, WI
Dave is a steam fitter, and his son Jeff is a welder by trade. These guys are serious when it comes to steel and welding. Dave would not buy a single welded boiler and had been looking for a manufacturer that boiler style welded their joints, meaning each joint is welded on the inside and the backside for full weld penetration, greater strength and durability. Dave could not find a double welded boiler until he came across Strawbale Farms/Portage & Main Boilers. Once I showed Dave and Jeff our welding samples, they were sold. People that work with their hands and are looking for quality and durability buy Portage & Main!
---
Jim and Debbie Thomson
Jim is an ace mechanic and owns a small engine repair business. He would like to retire but is so popular his customers won't let him! Jim is so handy that he built a hydrogen fuel cell for his Dodge Ram diesel pickup. By burning hydrogen created with the homemade fuel cell, Jim increased mileage by 15 percent and is still tweaking the system shooting for a 20 percent increase. The fuel cell is attached to the front of Jim's truck. People who know quality and efficiency choose Strawbale Farms/Portage and Main!
---