About Us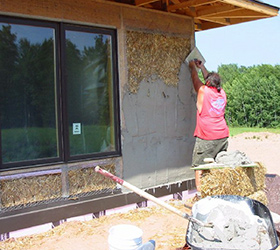 Strawbale Farms Inc. is a renewable energy company that focuses on biomass heating and energy efficiency. With many years of experience in the renewable energy industry we know efficiency "Results" when we see it. It is our pleasure to offer our customers the most efficient and innovative line of Conventional Outdoor Boilers, Wood Gasification Boilers and Automated Woodchip Boilers made today.
Known as the "Original Efficient One" since 1973, Portage & Main Boilers are the Best Built, Longest Lasting and Most Efficient Boilers in the industry. Portage & Main Boilers have twice the life and burn 1/3 to 1/2 less wood than any other brand of outdoor boiler.
Dave and Shari Jacoby established Strawbale Farms in 2002 with the goal of helping our customers achieve energy independence in an age of volatile fossil fuel prices. Our company is named after our hobby farm which includes our super insulated, passive and active solar, straw bale house.
Portage & Main Outdoor Boilers have provided families and businesses with comfortable heat for over 40 years. We are recognized as the industry leader with time-tested and proven designs. 
Our primary goal is to deliver more heat into your water pipes and not up the chimney pipes, all while providing exceptional customer service and satisfaction, day in and day out. No other manufacturer has a more complete product line. Our products includes updraft, downdraft, cord wood, wood pellets, wood chips and coal burning boilers – providing you with more options for your heating requirements. 
We believe the more you research what's out there, the more you will see that Portage & Main Outdoor Boilers offers you a lot more of what you really want – more value and a lot more boiler for your hard earned dollar.